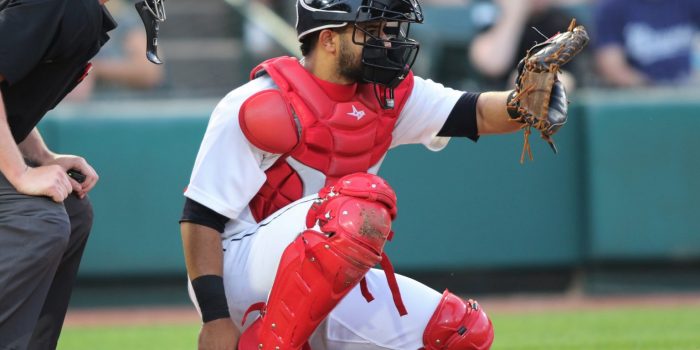 Nationals' rebuild takes another step forward
The sequence was perfect, three walks in a row, because it brought the right hitter to the plate at the right moment Monday night. Sure, the Washington Nationals already trailed by three runs in the first inning, with two-thirds of the deficit belonging to Bryce Harper and a moonshot homer. And sure, in the bigger picture, not much rode on a late August at-bat — an at-bat that lasted just two pitches — in a season that became an experiment July 30, once eight veterans skipped town.
But the player in the box, a 23-year-old catcher named Keibert Ruiz, mattered more than the result (a pop out to shortstop) or final score (a 7-4loss to the Philadelphia Phillies). This was the first at-bat of his awaited Nationals debut. So once Zack Wheeler spiked a curveball to Yadiel Hernandez, loading the bases with two outs, a scattered crowd stood and cheered. When Ruiz's name blared through Nationals Park, the noise grew louder, leading Wheeler to wait a beat before stepping on the rubber.
The Nationals are carrying six of their 14 new players. Who's next to reach the majors?
Ruiz was the top prospect acquired in the Max Scherzer-Trea Turner trade with the Los Angeles Dodgers. Josiah Gray, the second-best prospect netted by the Nationals, started Monday, forming a battery of the present and future. Yet Gray had his worst outing since joining the team, allowing seven hits, three walks and six earned runs in four innings to go with four strikeouts. Ruiz finished with two pop outs, a lineout and a bloop single in the eighth.
All that, right there, was Washington's night: glimpses of what's ahead, reminders of the long road to get there.
"A lot of thoughts, a lot of excitement," Ruiz said Monday afternoon of seeing the stadium for the first time. "But I'm not trying to do too much here. Just keep it simple. Same baseball."
"We haven't thrown that much together, just because of this year being a weird year for me with the injury and whatnot," Gray added of pairing with Ruiz. "So we're just going to continue to get on the same page, just like I did with Tres [Barrera] and Riley Adams. It's going to be a work in progress just like every other pitcher here."
Wheeler, the Phillies' starter, was both shaky and able to limit the Nationals (55-75). Ruiz got under a 97-mph fastball in his first three plate appearances. Shortstop Alcides Escobar exited in the first after fouling a ball straight off his left knee.The Nationals did rally off Wheeler in the second, using singles by Carter Kieboom, Luis García and Lane Thomas in a two-run burst, and Kieboom whacked a solo shot in the third. But they were long shoved in a hole by Harper, Gray and an adventure for Hernandez in left field.
In the top of the third, with the score 3-2, Phillies third baseman Ronald Torreyes skied a ball to left and Hernandez backtracked. But he mistimed his route, then mistimed his leap, and the hit smacked the base of the wall before shooting toward the line. Hernandez, confused, looked around and flipped his palms to the sky. The bases cleared for a three-run triple. Torreyes even considered trying for an inside-the-park grand slam.
To close his introduction to Washington, Ruiz got ahead 3-0, took a strike and looped Connor Brogdon's 95-mph fastball between three Phillies fielders for a single in the eighth. He ran 90 feet, reaching safely, and bumped knuckles with first base coach Randy Knorr. It really wasn't much. It wasn't a fairy-tale grand slam to erase Harper's early dent in the scoreboard. It was, actually, about as quiet a hit as Ruiz could have mustered.
But it was a start, nonetheless. The Nationals still needed that.