50 robots are working at Singapore's hospital
In Singapore's Changi General Hospital, there's a chance your surgeon won't have a heart. The cleaners might not have lungs, and the physiotherapist could be completely brainless.That's because at Changi General Hospital (CGH), more than 50 members of staff are robots.From performing surgery to carrying out administrative work, robots have become an integral part of the 1,000-bed hospital's workforce, says Selina Seah, director for the Centre for Healthcare Assistive and Robotics Technology (CHART), which works with CGH to find high-tech solutions for problems in healthcare.
While CHART has been operating since 2015, the pandemic has created a new need for contactless and remote healthcare solutions.
Singapore already has the highest adoption rate of industrial robots anywhere in the world, with 9 per 100 workers — but that is mostly in the electronics sector. Now, Seah hopes robots can make healthcare more accessible, affordable, and higher quality, as well as safer for pandemic situations."There is growing awareness that robots are becoming more important in our work," says Seah. "Due to Covid-19 and the fact that we have to take care of more patients with less manpower, robots are now a welcome part of our daily life."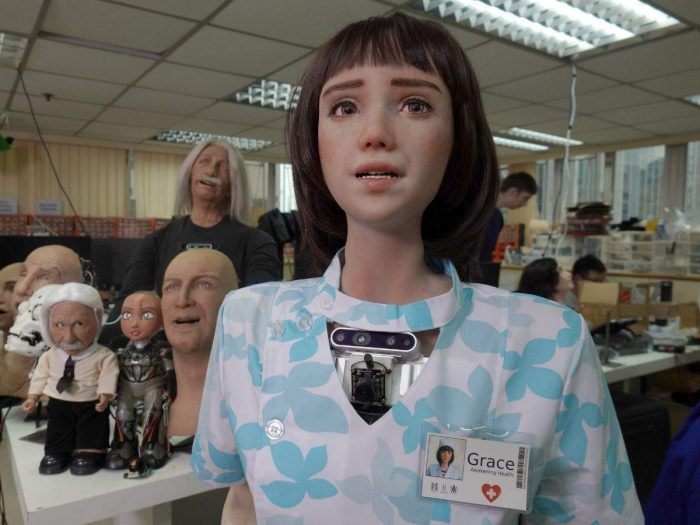 By 2030, the World Health Organization (WHO) estimates there will be a global shortage of 18 million health workers.That's a big concern for small nations like Singapore. With the 65-and-over population expected to jump from 14% in 2019 to 25% in the next decade, the Lion City is particularly vulnerable to the "three tsunamis" in healthcare, says Seah: an aging population, a shrinking workforce, and an increase in chronic disease.
That's where robots can help. CHART is trying to boost productivity using assistive technology and robotics.Surgical robots such as the da Vinci Surgical System are among the best-known robots in the hospital, says Seah. These robots act as the human surgeon's eyes, assisting with minimally invasive surgeries.
Outside of the operating theaters, other robots clean, deliver linen or food, help with hospital maintenance, aid patient rehabilitation, and even assist with lifting patients back into bed, helping reduce the "back-breaking" work that human carers take on, says Sea
A smart solution
Virtual health services is another area where CGH has seen technology deliver an improvement.Non-communicable diseases such as heart disease and diabetes are on the rise, responsible for around 71% of global deaths each year, which adds extra pressure to already-strained healthcare systems, says Seah. Realizing that repeat visits to the hospital from patients with chronic diseases weren't sustainable, CGH adopted a smart "telecare" system that allows doctors to monitor patients who are at home and identify problems early, says Seah.
However, integrating robots into the workplace is costly and requires expensive infrastructure, says Seah. An additional concern is data privacy and security, she says, adding that hospitals will need robust cybersecurity to prevent hacking.
The opportunity to increase efficiency and safety, particularly during challenging times like the Covid-19 pandemic, has made the challenges worthwhile for CGH."This is how we think we should use technology: to help us reach out to more patients so they get better-quality care," she says.